Are you going out of town on vacation?
Heading out on a weekend getaway?
Taking a business trip?
No matter where you're going, we know you're concerned about leaving your cat behind. At LaSalle Animal Hospital we offer complete cat boarding to Windsor and surrounding communities, ensuring that your kitty has a safe place to stay no matter how long you have to be away.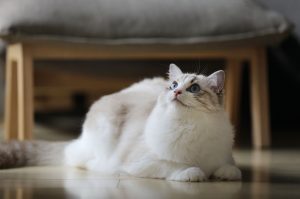 Amenities Of Our Cat Boarding In Windsor
We make every effort to provide comfortable accommodations for our guests. At our animal hospital, we want to create a boarding facility that is your cat's home away from home. When your cat boards at our animal hospital they can expect:
A private space all their own
Comfortable bedding
Meal times that suit their usual schedule
Food provided, although pets on special diets should bring their own food
Time out of their cage in a secure area, to ensure that they get their exercise and time to play.
Lots of love and attention from our team throughout the day
Because we are more than a boarding facility, we can also offer special animal hospital services for our guests. If your pet is in need of medication, our team members can ensure that it is administered correctly. We can also combine your pet's boarding visit with other necessary medical care such as vaccinations, physical exams, and even dental care. Ask us about these add-on veterinary services when you schedule your pet's reservation with our team.
What You Need To Know About Cat Boarding
At our animal hospital, we have a few requirements for our boarding guests to ensure that they and our other guests are safe at all times.
All cats are required to be up-to-date on vaccines in order to protect them from potential diseases and to protect our other guests and animal hospital patients
It is recommended that pets be on a routine flea and tick prevention during their stay; all pets that are not currently on any prevention will be administered a flea treatment prior to their discharge
We will need copies of all of your cat's records if they are not a patient of record at our animal hospital
Schedule Your Cat's Boarding Stay with Us
If you have a vacation or trip planned, please contact our team right away to schedule your cat's boarding visit. Always remember that popular travel times, especially around major holidays, always book up fast. Make your reservation as early as possible to make sure that your pet can be accommodated!