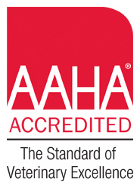 Welcome to LaSalle Animal Hospital where it is our mission to be the best veterinary practice possible! We are dedicated to forging professional bonds with our clients, allowing us to deliver the highest quality care to our patients.
The American Animal Hospital Association (AAHA) is the only organization that accredits companion animal veterinary hospitals in North America. To become accredited by AAHA, our hospital must demonstrate an exceptional level of medical care and client service, and be measured against the most rigorous standards in the veterinary industry. During the accreditation process, an experienced AAHA accreditation consultant visits our hospital, thoroughly examining our surgical suites, exam rooms, medical records, drugs and supplies, processes and procedures, and much more, and evaluates us on approximately 900 standards that directly correlate to the quality of care we are providing your pet.
All veterinary hospitals are not created equal. Did you know?
Accreditation is required for human hospitals but voluntary for animal hospitals.
We are an AAHA-accredited veterinary hospital. What does that mean for you? That means we hold ourselves to a higher standard than other veterinary hospitals. Pets are our passion, and keeping them healthy is our #1 priority. Here, we strive to deliver excellent care, because your pets deserve nothing less.
Only about 12% of animal hospitals in the U.S. and Canada are accredited by AAHA, and we're proud to say that we're one of them!
Visit www.aaha.org for more information.
Our New Veterinary Facility
In 2012, LaSalle Animal Hospital opened a brand new facility! Our state-of-the-art, modern animal hospital is equipped with some of the newest veterinary technology, enabling us to provide the exceptional veterinary care. We are proud of the small town feel that our clients will discover at our practice.
Pets Cared For:
Cats
Dogs
Avian
Rabbits
Ferrets
Pocket Pets
LaSalle Animal Hospital Welcomes You!
If you are ready pursue exceptional veterinary medical care with LaSalle Animal Hospital, please contact us today! We look forward to getting your pet started on the right paw. Our veterinary team is proud to be Caring People, Caring for Pets.
Make an Appointment